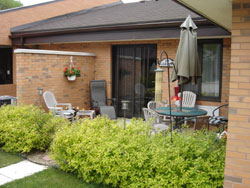 Application Process for Seniors Apartments
Golden Dawn Senior Citizen Apartments offer a variety of floor plans, including bachelor, one bedroom and two bedroom. Golden Dawn, in partnership with Bruce County, offers a limited number of rent geared to income one bedroom apartments as part of Bruce County's Social Housing program. The process for placement on our waiting list involves completion of one or both application(s)

Market Rent

Application forms for Golden Dawn Seniors Apartments may be accessed through the link below or may be obtained from the office at Golden Dawn.
Please print and complete the application and mail or fax it to Golden Dawn at:
Golden Dawn Senior Citizen Home
80 Main Street
Lion's Head, ON N0H 1W0
Tel: 519-793-3433 Fax: 519-793-4503

Please Note: Due to demand, we currently have a significant waiting list for apartments. Applications when received are date stamped and apartments offered on a first come, first served basis.

Rent Geared to Income
A limited number of rent geared to income one bedroom units may be available through Bruce County's Social Housing program. Rent geared to income applications are processed by:
County of Bruce
325 Lamton St. Box 1450
Kincardine, ON N2Z 2Z4

Rent geared to income applications are available at